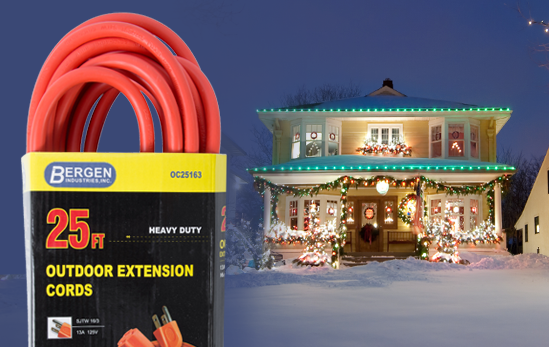 Make your season bright!
Extension cords are an important part of holiday decorating especially when it comes to temporary outdoor lighting for the season. Outdoor extension cords should be plugged into outlets equipped with ground fault circuit interrupters (GFCIs). Use a portable GFCI if your outdoor outlets don't have them.
When selecting an extension cord to connect lights make sure it is in good condition and is a UL-approved cord rated to carry the electrical load you will connect to it. Heavy-duty outdoor extension cords like the OC25163 from Bergen Industries come highly recommended. They are designed to handle all conditions and applications; from powering equipment on a jobsite to powering outdoor holiday lights at home. Water resistant vinyl jacket protects against all-weather environments and prolonged exposure to sunlight while still being flexible. Bergen industries heavy duty extension cords can be acquired through your local commercial electrical products dealer or found online at The Home Depot.
We wish you and yours a bright and safe holiday season!